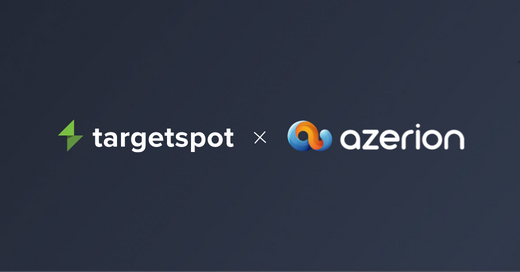 Sale of the digital audio business (Targetspot Division) to Azerion
Targetspot SA is announcing the sale of its digital audio business (Targetspot Division), housed within its subsidiary Radionomy Group B.V., to Azerion, an international group listed on Euronext Amsterdam (ticker AZRN.AS) that operates through a high-growth digital entertainment and media platform.
This operation will allow the three shareholders of Radionomy Group B.V. (Targetspot holding 98.5% of the capital of Radionomy Group B.V. and two minority shareholders holding the remaining 1.5%) to receive:  a total cash payment of €7.5m paid in three tranches of €2.5m each, at closing, at 30 april 2023 and at 31 January 2024; and a payment in Azerion shares of €19,1m (i.e. 2 782 644 Azerion shares). Besides, Targetspot SA (and the other two minority shareholders) will also be eligible to receive an earn-out in april 2024 for a maximum €3m, payable in Azerion shares.
The Targetspot Division, the object of the sale, monetises digital audio across all available channels, including webradios, music streaming, podcasts, audio books, video platforms and mobile games. It accounted for 92% of Targetspot SA Group's total business activity in first-half 2022, i.e. revenue of €13.4m for EBITDA of €0.5m.
With the acquisition, Azerion will be able to integrate Targetspot's bespoke technology offering and enhance its advertising offering. By adapting targeting data to the requirements of campaigns and audio content, Azerion will create stronger listening experiences and thus generate better results for campaigns.
Alexandre Saboundjian, President and Founder of Targetspot SA, comments: "Our Targetspot division and Azerion complement each other perfectly: we bring a proprietary digital audio technology that was missing from Azerion's current Adtech platform, while Targetspot will benefit from Azerion's commercial strength, present in 24 countries, and its close ties with over 575 publishers and 400,000 advertisers. I am very proud of the recognition given to the Targetspot and Shoutcast teams, who have worked tirelessly over the past few years to enrich the Audio platform and increase our international market share, managing to integrate digital audio and podcast advertising into the media plans of tens of thousands of brands."
The planned transaction will be closed no later than the end of December 2022, after approval by the Targetspot SA Extraordinary General Meeting (EGM), convened on 9 December 2022. A summary of the terms and conditions of the sale agreement, signed on November 21, 2022 with Azerion, is available on the Targetspot SA website at investors.targetspot.com.
Following the sale, the Group, with a consolidated financial position, will continue to operate within a scope refocused on Winamp, a subsidiary that now has three brands:
Bridger, a copyright management platform launched in April 2022
Jamendo, which sells the works of more than 45,000 musicians
Winamp, the iconic audio player.
The growth prospects and objectives for these businesses will be specified in an upcoming communication after the EGM. This message will also be an opportunity to propose a new name for the Group, which must be approved by an EGM of the shareholders of Targetspot SA, convened after the actual completion of the transaction.